P-BEAT High Speed Electrophoresis Cell is for the exclusive use of Precast Gels MULTIGEL® II mini manufactured by Cosmo Bio Co.,Ltd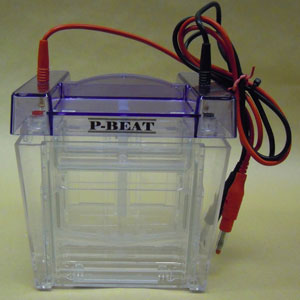 œ Easy-To-Use
œ Can be electrophoresised 2 gels simultaneously
œ Prevent gel from heating and smiling by cooling system
œ Can be used High Voltage
| | |
| --- | --- |
| Dimension | 145 W × 115 D × 150 H mm |
| Buffer Volume | About 700 mL |
| Maximum Sheets | 2@Sheets |
Set up condition for high speed SDS-PAGE
Setting Voltage: 300V-500V
Electrophoresis Time: about 40min-25min
1,2 lane: SIMASIMA Ladder Broad 5ul
3,4 lane: SIMASIMA Ladder Low 5ul
5,6 lane: SIMASIMA Ladder High 5ul

Electrophoresis device: P-BEAT
Electrophoresis condition: 300V,40min
Gel: MULTIGEl® II mini 4/20 (13W)
(Gel concentrarion 4-20%)
(#01CUKAO-15EX)

Staining:CBB Staining
(Page Blue 83 stain solution(CBB-R250)DCB-423406)

Lower Buffer Cooling System
Lower Buffer Cooling System
\\\\\\\\\\\\\\\\\\\\\\\\\

It separates upper and lower buffer tank.
This system prevent by heat from upper buffer
because cooles the gel cassette in lower buffer.
By this structure, it can be used high speed electrophoresis at a high voltage.
To be used for research only. DO NOT use for human gene therapy or clinical diagnosis.
---
---
"P-BEAT Electrophoresis Cell" also belongs to the following categories.