Prestained/unstained protein markers that can be used directly without any dilutions or heat shock treatments!
SIMASIMA Protein Ladders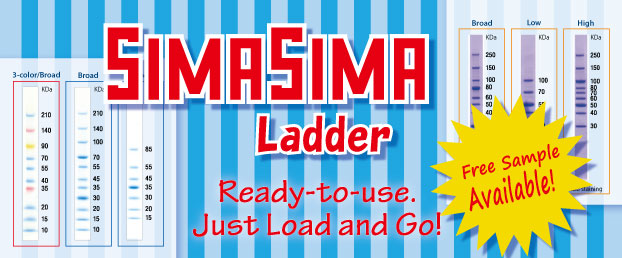 Prestained SIMASIMA-Ladder
• Suitable for confirming separation during electrophoresis and efficiency of blotting.
• The density of bands can be altered with blotting.
• Estimated molecular weight will be changable depending on the concetration of acrylamide gel and degree of crosslinking. These markers are not suitable for precise determination of molecular weight.
• Stable for 1 year under 4C.
Sample Available! Fill the Sample Request Form
*One free sample per laboratory. 3-ladder sets are not available as free samples.
*Although this is free sample, shipping cost will be charged.
Cat. No.
SS-3000
(3-color/Broad)
SS-2000
(Broad)
SS-2100
(Low)
SIMASIMA-Ladder (Unstained)
• Shapes of bands are sharp and conspicuous. Estimate of molecular weight is easy because the bands separate precisely and reproducibly.
• Recommended volume: 5 uL for CBB staining, and 0.2 - 0.5 uL for silver staining or SYPRO® Ruby staining.
• Stable for 1 year under 4C.
Cat. No.
SS-1000
(Broad)
SS-1100
(Low)
SS-1200
(High)
[Related Products]
• i-MyRun. Series i-MyRun.P for Protein

• Precast Gels MULTIGELR II Mini

To be used for research only. DO NOT use for human gene therapy or clinical diagnosis.
---
"SIMASIMA Protein Ladders" also belongs to the following categories.